Adventures in India + Delhi Smog Alert
Hello from Brooklyn! 
I'm officially back from my month-and-a-half long research trip for my upcoming book, Destination Wellness. I started in Hawaii and Japan, which you've already heard about, so now I'm here to talk about my last stop: India. 
India is a very special place for me, because my husband, Rahul, grew up there, in New Delhi. We met back in 2014 on a camping trip in upstate New York, and boom — we just clicked. We both lived in Manhattan at the time and started dating right away, and we went on our first trip to India together just three months after that. Since then, I've returned to Rahul's home country six other times — one of which was for our wedding last year — and with every trip, India has become less and less of a travel destination for me, and more and more of a second home.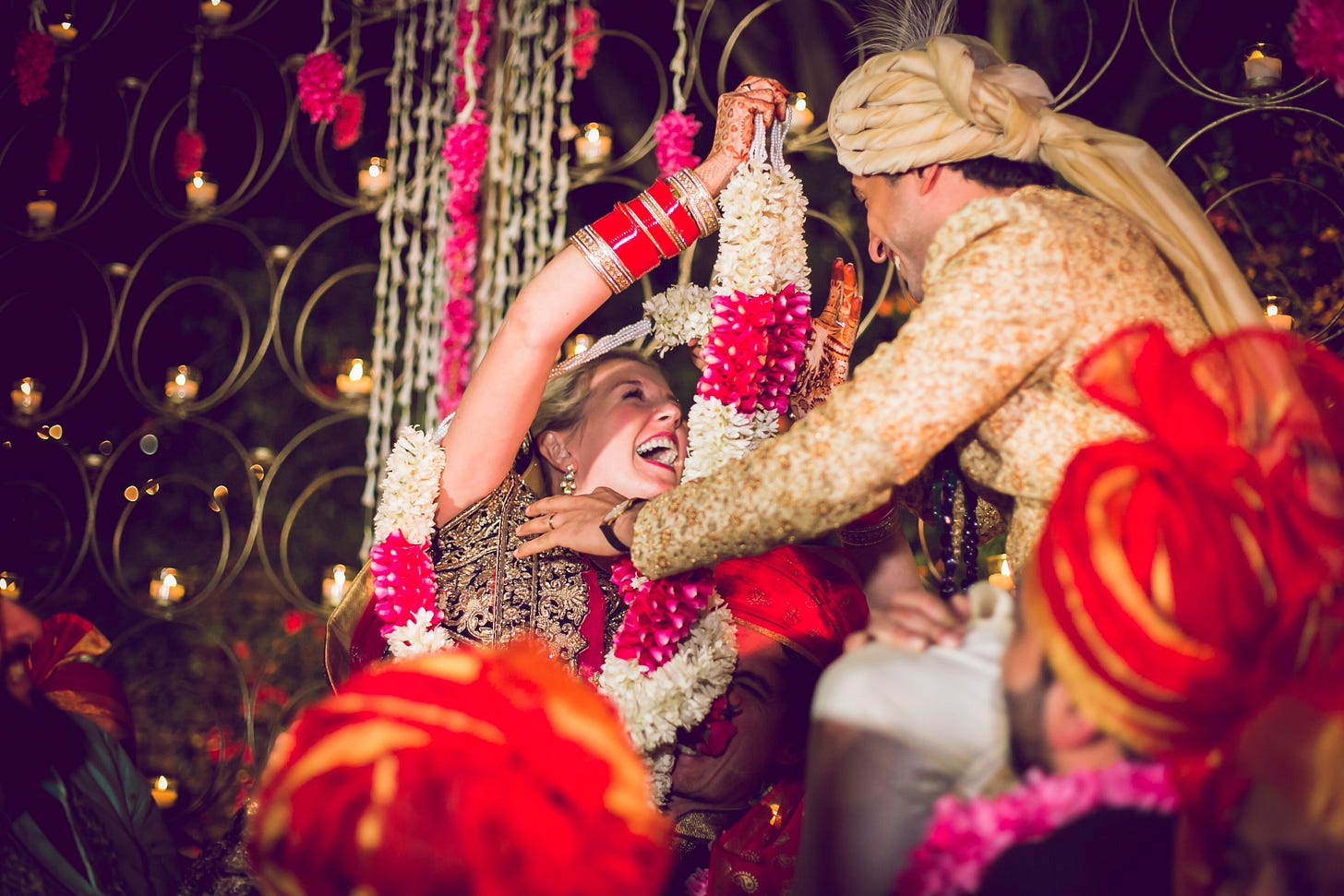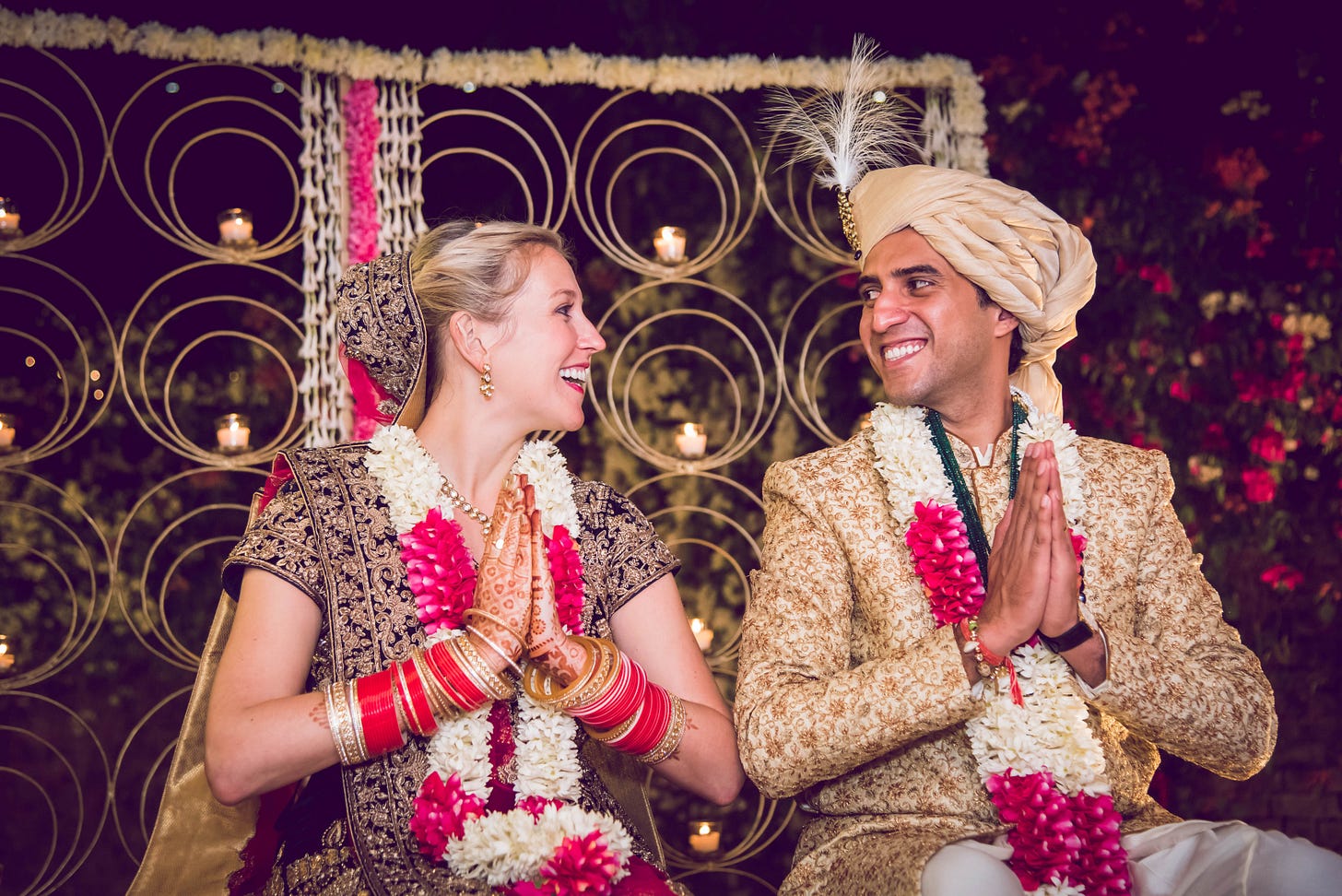 Like most couples who visit their parents on a consistent basis, Rahul and I have developed quite a few routines for when we're in Delhi — and it's those routines that make me feel like a local. As soon as we arrive, for example, we always go to this one salon to get coconut oil head massages and haircuts, because we love how they do it — and the cuts are far cheaper than they are here in New York. We also have a spot near Hauz Khas Village — an artsy, fun area of Delhi — where we go every year to write down our goals for the upcoming year. We initially stumbled upon "the spot," a 600-year-old domed pavilion made from slabs of rock in the middle of a tree-filled park, on a sunny afternoon back in 2014. The vibe pulled us in somehow, and we found ourselves talking about what we wanted from life — a tradition we've kept up every year since then.
We've got food rituals, too. Lots of them. This should come as no surprise to anyone who's ever been to India, as it's borderline impossible to talk about India without talking about food. Most of the best food happens at home, because my mother-in-law is an incredible cook, and she loves to dote on us when we're there. In fact, she's so into feeding us that we try not to eat much "outside food" (what many Indians call any food not cooked in the home) when we're there. Breakfast is always parathas (whole wheat layered flatbreads topped with ghee), served with achar (pickle) and soaked almonds — a true North Indian staple. Dinners vary, but there's usually some combination of spiced dal (lentils), sabajee (vegetables, likely eggplant or okra), and roti (whole wheat flatbread).  When we do go for outside food, it's usually a trip to "the butter chicken place" (Moti Mahal, a culinary institution for Punjabis in New Delhi), or a mission to hit up various street vendors for all of the chaat, India's incredibly delicious — and incredibly addictive — street snacks. While chaat is available all over the country, it originated in Delhi, so Delhiites lose their minds over the stuff; Rahul even orchestrated an entire chaat bar at our wedding last year. As a Delhi kid for life, he's as loyal to his hometown chaat as born-and-raised New Yorkers are to bagels. You could get bagels in places that aren't New York, they say, but … why bother?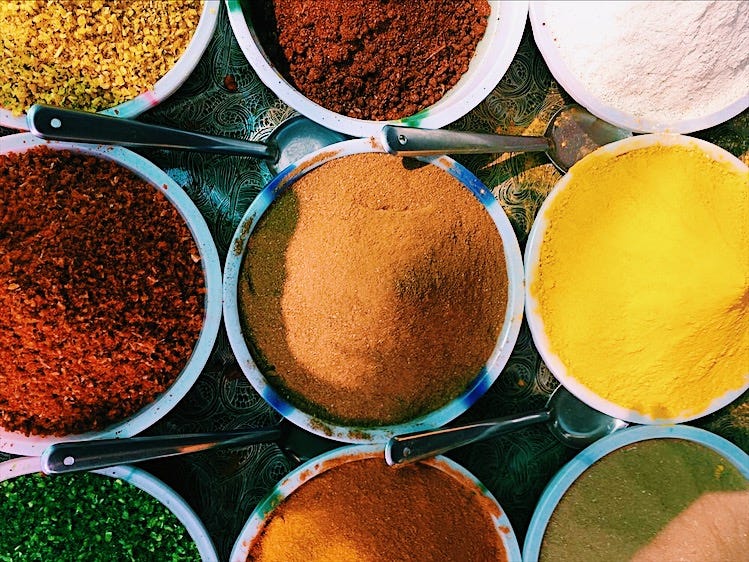 Clearly, it's hard for me to talk and write about India without talking and writing about Rahul, because for me, the two are inextricably linked. To me, India is Rahul, which has often made me wonder: Do I love India because I love Rahul, or would I love India on its own no matter what? Aside from Delhi, Rahul and I have also traveled extensively throughout the country together, from Jaisalmer and Udaipur in Rajasthan, to Mumbai, to the Himalayas, and all the way down to Goa. I've gotten used to seeing India through his eyes, and having his opinions on his home country inform and shape my own. It's a pretty well-documented fact that India is one of the more difficult places to travel as a Westerner, but I'll be honest: When I'm bopping around with him, my India experience is pretty cushy. Not only do I have my number one buddy with me at all times, I also have a translator who makes everything easier and a foodie who personally selects the best local dishes and a historian who fills me in on the contextual history and a health inspector who ensures that we only stop at clean places where I (hopefully) won't get sick and a loving family that welcomes me in and treats me as one of their own. All of these luxuries have formed the backbone of my travels through the country — which is why I was interested to see how I'd do on my own for my book trip.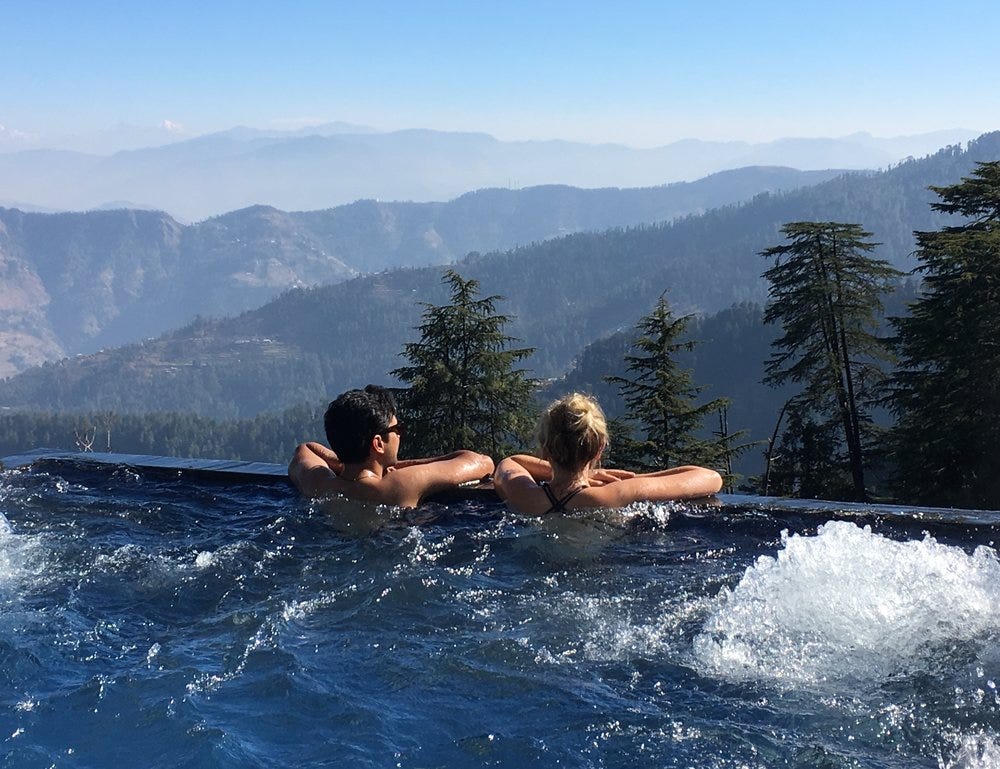 For the book, I traveled down to the state of Kerala, in South India, by myself to spend a week and a half researching Ayurveda, which is the ancient Indian system of medicine that I'm writing about. Kerala is the birthplace of Ayurveda, and I loved its feel right away, from the moment I stepped off the plane. I'm all about those tropical vibes, and at around 10 degrees north — the equivalent of Costa Rica, for context — Kerala hits the mark. Located on the southwest coast of India, right on the Arabian Sea, Kerala is known for its stunning white-sand beaches and for its backwaters, which is a weirdly unromantic name for its beautiful network of serene canals, lagoons, lakes, and rivers that lie parallel to the Arabian Sea. In fact, Kerala has often been called the "Venice of the East," and the backwaters have also been compared to the American bayous.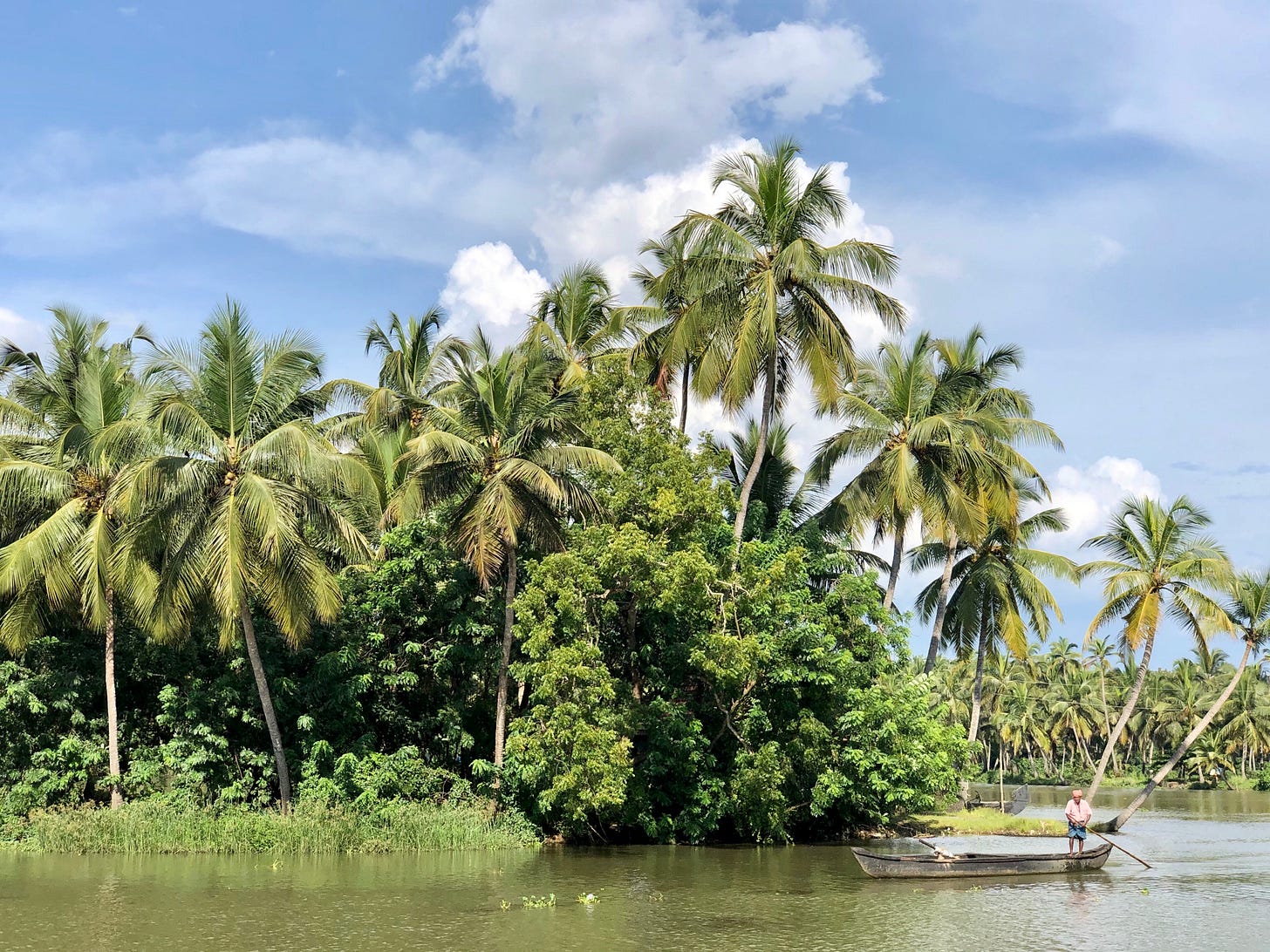 While it felt weird to be in India without Rahul in theory, the reality is that the lush, jungly state is so far south from Delhi that it felt like a different India completely, and it quickly became my own. By the time I made my way back up to Delhi to meet Rahul, who'd flown in from New York for our annual fall trip, I was a true Kerala pro. In a major role reversal, I spent the first couple days telling him and the rest of the family about everything I'd learned, when they're usually the ones teaching me about India. I travel on my own all the time, of course, but doing so in India made me feel even more connected to my second home, because I'd added another layer to our relationship. I'd become obsessed with idly, for example, which is a steamed South Indian breakfast cake made from fermented black lentils and rice. Not surprisingly, my mother-in-law said that she would try to learn how to make them for me on our next visit (score).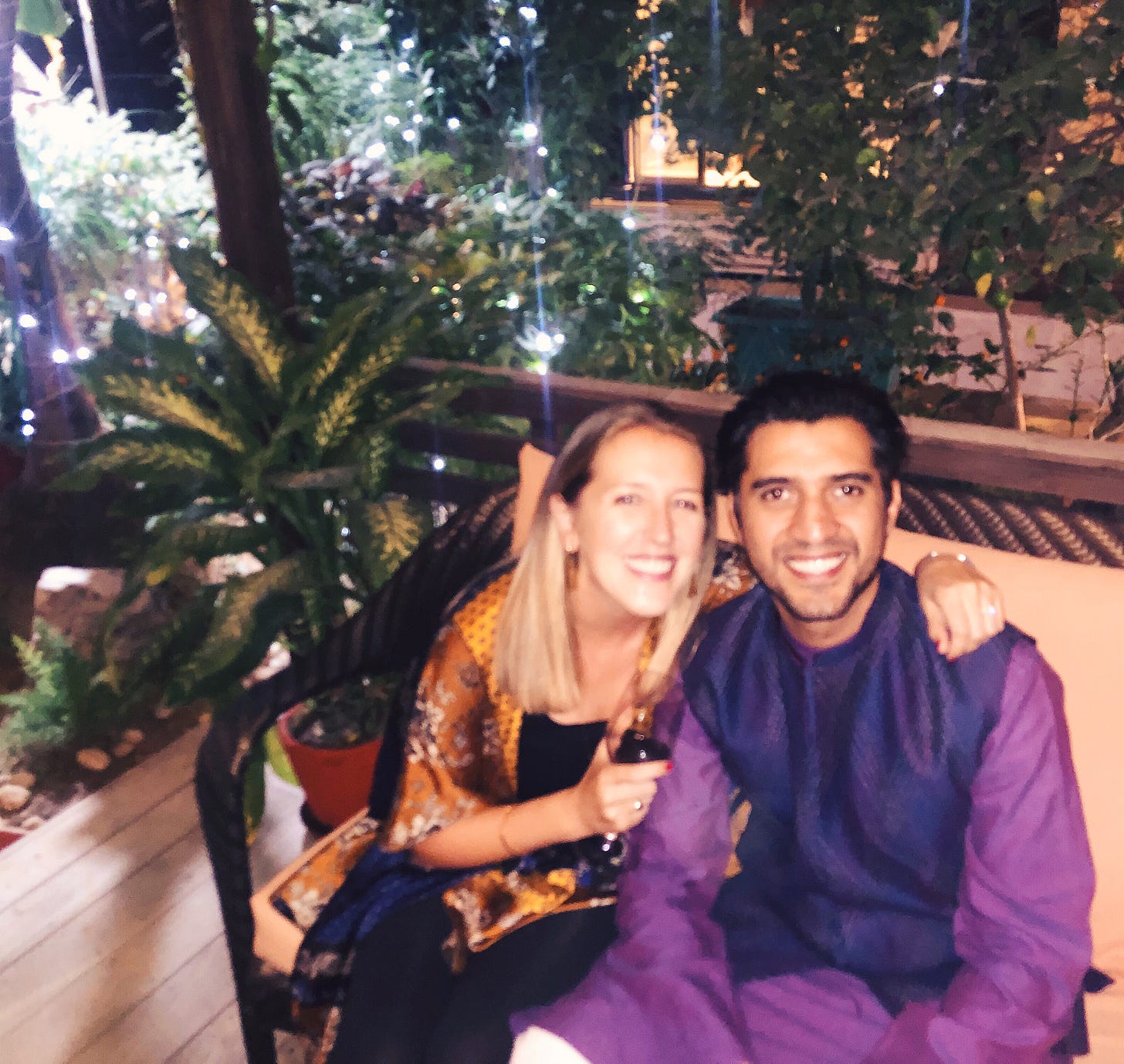 But after all of the South Indian chatter, the conversation inevitably turned to the smog — which is the last topic I want to discuss. You guys, the smog in Delhi right now is dangerously toxic, to the point that the government declared a health emergency last week and even shut down schools. They also issued an "odd-even scheme" three days ago, where drivers are only allowed to drive every other day, depending on if their license plate ends in an even or odd number. The goal is to take half of Delhi's drivers off the road every day, but people still aren't sure this will help. To be clear, it isn't always this bad. The smog in Delhi is seasonal, usually at its worst in October and November, when farms in neighboring states burn the stubble of their already-harvested crops to get ready for the winter planting season. And the already-bad air quality gets even worse around Diwali (the festival of lights that occurs at some point in October and November, depending on the Hindu lunar calendar), when people set off loads of firecrackers even though they're banned. Still, it's a huge climate crisis, and Rahul and I spent a lot of our time there trying to convince his parents and sister to move south, to Goa, where the air is much cleaner. We felt a constant burning in our throats and eyes the whole time we were in Delhi, and we don't even live there — so it's scary to think about the impact the pollution is having on the people we love. Their whole lives are in Delhi, so packing up and moving everything is a hard ask — but what else can they do? I don't really have a point except to bring awareness to this global emergency, and remind everyone to do their best to take care of our planet every day. Unless you're Elon Musk and think we should all just move to Mars, Mother Earth is all we have.
**
And now, for my latest FUNSUMPTION REPORT! (Quick reminder: This is a list of some fun things I've consumed recently, from articles to food to podcasts to books to songs and more.)
1. Science has finally caught on to what many of us have intuitively known all along: People who spend more time near the water — what they're now calling "blue spaces" — are happier. CO-SIGNED. As a born-and-raised Rhode Island girl, I always feel better when I'm near the water. It soothes me in a way nothing else can, which is why I go for a morning run along the river whenever possible.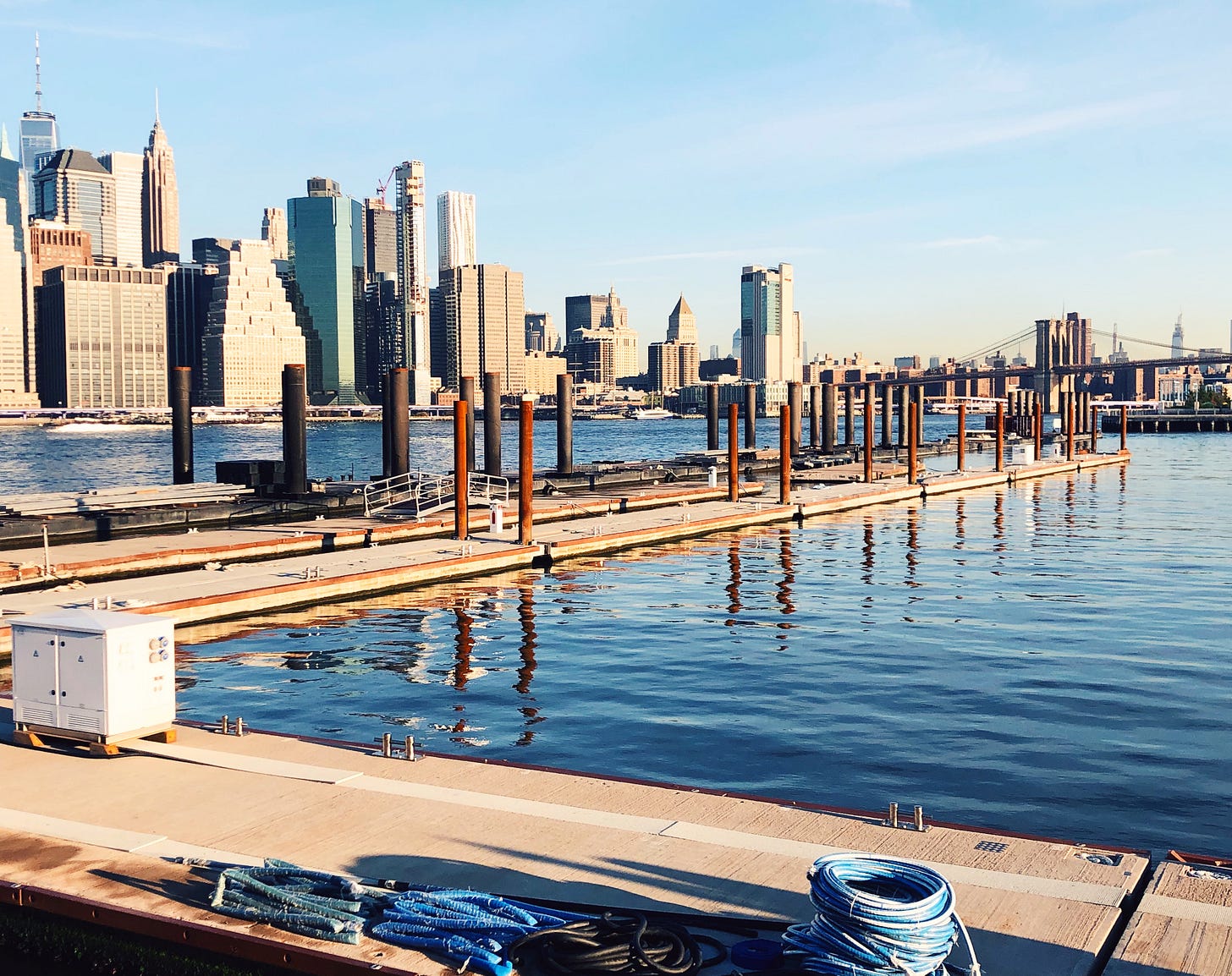 2. In perhaps the most meta podcast of all time, Guy Raz, the host of my favorite podcast How I Built This — which is about the stories behind some of the world's most well-known companies — recently had Alex Blumberg and Matt Lieber, founders of the podcasting company Gimlet Media, on his show. Now, deep breath here. This podcast episode would already be meta enough, the fact that a podcast host interviewed two fellow podcasters about their podcasting company on his podcast. But! It even goes one layer deeper, because they also talk about Alex Blumberg's podcast Startup, which details how he went about developing his podcasting company. So, to recap: Not only does a podcast host interview two fellow podcasters about their podcasting company on his podcast, but they also talk a lot about their particularly successful podcast that chronicled the making of the podcast company that they are talking about on the podcast. GOT ALL THAT? Lol, now go listen. It all makes sense once you do, thanks in no small part to the geniuses who pulled this off. The amount of podcasting talent on this one episode is absurd.
3. Relatable comic for all of my fellow writers out there: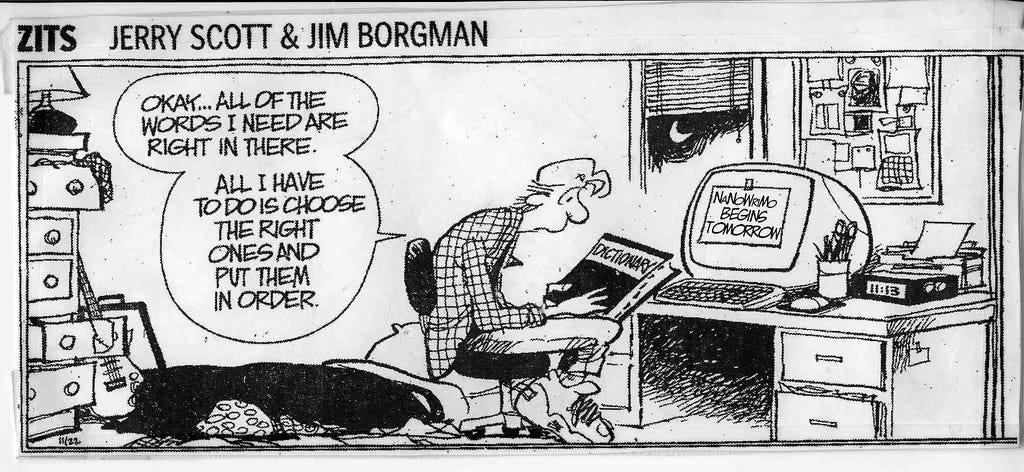 I first read this particular Zits strip back in high school, and I still think of it every time I have a massive deadline looming ahead. It's comforting, isn't it? All of the words I need for Destination Wellness are right there in the dictionary … all I have to do is choose the right ones, and put them in order.
And with that, I'm off to do some more word organizing.
Wish me luck!
Annie