How to Stay Grounded When You're, Well, Grounded
In the words of photographer Dan Tom: "The only place I'm visiting now is my archives."
Hey friends,
Hope you're all doing your best to stay healthy and safe during these Twilight Zone times.
It's been a while since I've emailed you about my travels for my book, Destination Wellness, because I was busy actually writing the book once I got home from my travels. But now that I've turned in the manuscript, I'm back in action—and my first order of business is to check in and chat with you during this absolutely unprecedented, what-is-even-happening time in human history.
So: How are you? Where are you? I'm hunkering down at home in Brooklyn Heights with my husband, Rahul, where we've been oscillating between fear, dread, hope, happiness and doom on an hourly basis. (Raise your hand if this describes your home situation, too.)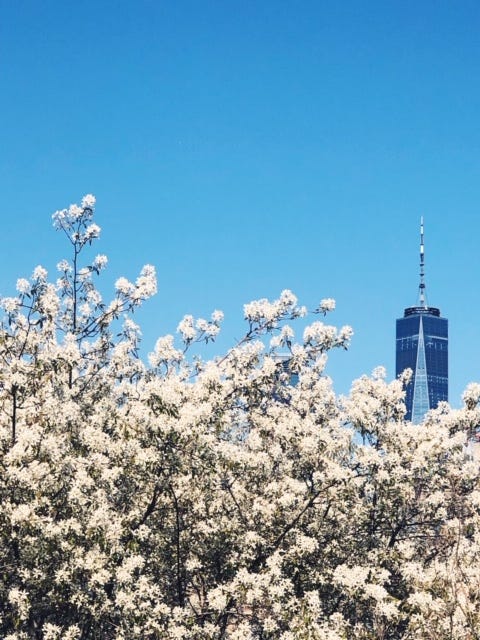 We're being incredibly cautious, of course, washing our hands a bajillion times a day, ordering our groceries online, going for socially-distanced walks and runs in the park, and cooking all sorts of delicious and healthy concoctions to keep our immune systems in check (highlights: green smoothies every morning, and kale and black bean tacos for dinner). We've also spent more time talking on the phone—and talking to each other—than we have in months. In fact, we just had the biggest Zoom call of our lives with my whole extended family on my mom's side for my grandfather Big O's 93rd birthday. Epic!
I think we can all agree, though, that all of the precautions in the world are not enough to curb this collective sense of uncertainty. Rahul and I feel incredibly fortunate to have each other, and to have jobs that are not in danger at this time—but even though we're among the lucky ones, it's still so…much. In the wise words of my friend Zoë, "This pandemic is an emotional rollercoaster—so easy to go from chilling to panic in no time flat." Take this morning, for instance: I was standing by the coffee maker in my sweatpants, in a pretty decent mood all things considered, just minding my own business while waiting for the pot to brew, when boom—I looked around the apartment and had a doomsday revelation. It started when I saw Rahul's fluffy fleece pullover draped over the chair next to our fireplace. Then I looked slightly to the right and saw two bright pink hand weights sitting in the corner by the couch. After that, I moved my gaze over to our stack of canned goods underneath the living room table, and proceeded to stare at them for just a little bit too long. And pretty soon, it hit me: Though these are all seemingly normal items in theory, they have become very not normal in this context—because everything, and I mean everything, has changed. Rahul's fluffy fleece pullover is no longer just an item of clothing; it's become his signature work-from-home uniform, his armor of coziness, a way to cover and smother himself in comfort during these uncertain times. The two hand weights in the corner aren't just for exercising indoors anymore, either; they're now a fitness lifeline, a symbol of the new at-home gym we all must try to embrace. And our stack of cans? Forget about it. This is no ordinary stash of mish-mashed pantry staples. Rahul categorized the stack by genre and even by bean, so that we will know ~exactly~ how many cans of each kind we have left before we need to replenish our supply (such a him thing to do).
The point is, everything has new meaning now—because we are living in a new normal. And while this is certainly not breaking news, I wanted to bring you into my morning thought process to emphasize just how pervasive these thoughts are every day. I know I'm not alone here when I say that I can't even look at a fluffy fleece anymore without thinking about the social, political and economic ramifications and implications of said fleece. Is this really real? How is it even possible to swing from zen to existential doom and back again in a matter of minutes? I'm trying to focus on work, of course, and I'm trying to read fiction books that will transport me into a whole new world, and I'm trying to do all of those other relaxing, soothing things that I have probably told you to do in some wellness article I have written in the past. But in the back of my mind, it's always this. How can it not be this?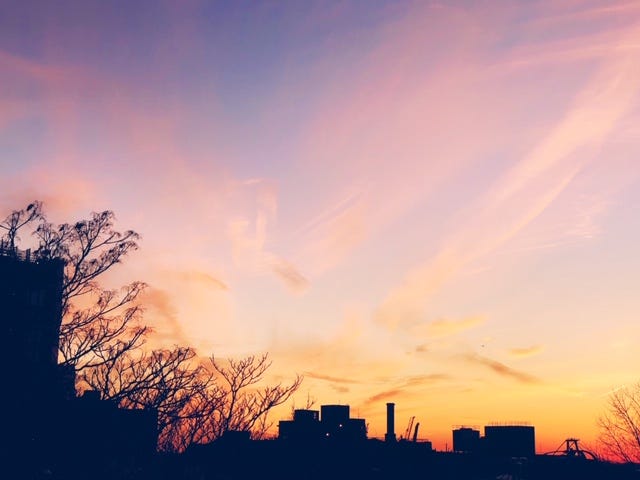 I don't have the answers. But I've also come to realize that that's okay. One of my favorite travel writers, Caitlin Morton, wrote an essay called "It's Okay to Feel Sad About the Coronavirus Travel Restrictions" that convinced me that we should all feel okay living in the space between right now. In her essay, which was published on Condé Nast Traveler's site, she wrote about how she'd been beating herself up for feeling bummed about having to cancel her upcoming trips when people have far bigger problems…until she realized that she didn't need to be beating herself up at all. It's okay to feel sad, she reasoned, even when you know that it's not about you and that staying put is the right thing to do for the world at large. It's called being human! In her words: "Even more so, it's possible to feel more than one thing—such as global empathy and personal disappointment—at the same time."
That last line got me thinking about all of the other things that we're feeling at the same time, too. Think about it: We're currently living through an entire life of contradictions! We are cramped in our tiny homes, yet our outlooks are bigger and more global than ever. We love our quarantine partners so much, yet we get annoyed at them for talking on the phone in the apartment when we're trying to work or relax. We miss hanging out with our friends and family in person, yet we also appreciate the stillness. Mother Earth is breathing fresh life again, with blooming daffodils and crocuses and forsythia on full display, yet more human lives are being lost at the same time. The whole world is at war, yet we're all fighting the same enemy. The water and the air are cleaner than they've been in a long time—I even saw stars on one of my night walks in Brooklyn!—but our overall world is germier than ever. We are alone, together. Apart, and connected. Beyond tired, yet unable to sleep. Constantly hungry, but always full. And in perhaps the strangest contradiction of all, we are doing nothing at all—because doing nothing is actually doing everything. 
The list goes on. And I've come to realize that, in these unprecedented times, we've got to hold space for all of these contradictions, positive and negative, because they are all valid, all true. There's room for us to be both happy and sad, calm and chaotic, grateful and angry. It doesn't have to be one or the other. This is a both situation!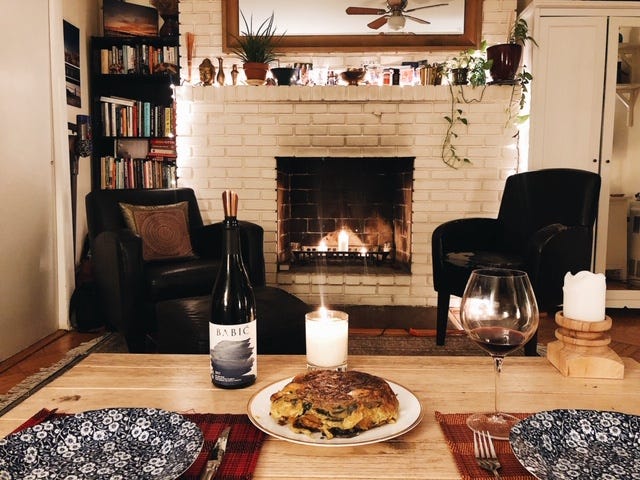 And so, with that in mind, I'm going to table my usual "FUNSUMPTION" report for this newsletter, and instead share three easy, doable tips for staying grounded at home now that we're all, well, actually grounded. You may find some contradictions in my advice ("Do something creative! Do nothing at all!"), but as I just said: That's 2020 for you. These have all worked for me in some way, and I hope that they can work for you, too:
1. Make a pandemic playlist.  My friend John and I teamed up to make one together over the weekend—it's public on Spotify if you want to listen! Putting it together was a beautiful distraction, and I highly recommend making one of your own (or just listening to ours if you want).
Some people out there are making pretty literal Coronavirus playlists, filled with songs like Alanis Morissette's "Hands Clean," but that felt a bit too close to home for my liking. I wanted ours to be more spiritual, filled with songs about coming together and lifting each other up during hard times. To that end, ours starts with George Harrison's "All Things Must Pass" (shout to my dad for calling that one early on), and then has all sorts of other positive anthems about taking care of each other ("Handle With Care" by the Traveling Wilburys), and learning to appreciate this global pause ("Let's Be Still" by the Head and the Heart), and embracing social distancing ("Isolation" by John Lennon; "In My Room" by the Beach Boys), and remaining hopeful (Dylan's "I Shall Be Released"), to name a few. 
2. Travel the world without leaving home. As someone who is writing an entire book on how to weave global philosophies into your life at home, I am a big believer in "armchair escapism," or the ability to travel in your mind without leaving home. Staying put physically doesn't mean you have to stay put mentally! Rahul and I were bummed to cancel our trip to Oaxaca, Mexico, for example, so we've been making tons of tacos in the apartment instead. Are they as good as the real thing? LOL, we wish. But the act of making them does transport us to another place—and that's what matters. Here are some of my other favorite ways to keep the travel vibe alive at home:
Listen to the music! Pick a country you want to travel to in your mind, and listen to their music on repeat. Brazilian tunes are always a good idea if you need some inspiration.

Whip up an at-home beauty ritual that takes you back to one of your favorite trips. Maybe there was a spa ritual you loved, or a face mask you can recreate at home. I personally go for the super simple and wash my face with warm water and a bunch of sea salt when I miss the ocean. It helps! 

Watch travel shows and documentaries, and read travel memoirs! I'm going to write another newsletter with all of my suggestions, because there are so, so many. In the meantime, my favorite travel documentary is A Map for Saturday, which you can watch on Amazon Prime, and one of my favorite travel books is Beautiful Ruins, which takes in Italy, and will make you dream of a time when we can finally get back there (and put our tourism dollars to extra good use). I also wish I could include my own book on this list, because it's perfect for this exact situation. But we will have to wait a little longer for it to come out!

WhatsApp your travel friends to see what it's like in their neck of the woods. The best part of travel is broadening your horizons and gaining a new perspective, after all—and you can definitely do that through technology right now. My friend Jack has been passing along all sorts of updates from Italy, and it's been interesting to hear his take. You could also read the countless international dispatches online, of course, but I prefer to hear from someone I know—it's much more personal that way. There is no better time to embrace your own global village than now!
3. Finally, you can simply do nothing at all—and actually let yourself enjoy this free time.
If the desire to create something strikes you, then by all means, bake that bread. But if it doesn't strike you, try to honor that feeling. Don't feel pressured to do something productive during this time just because you think you should! As my brother Tom mused last night on. the phone, there has never been less FOMO in the world than there is right now—so try to embrace that freedom in whatever capacity you can. This can be a beautiful opportunity to sit in your own thoughts and just be, not do. A couple people sent me this fitting poem that says just that: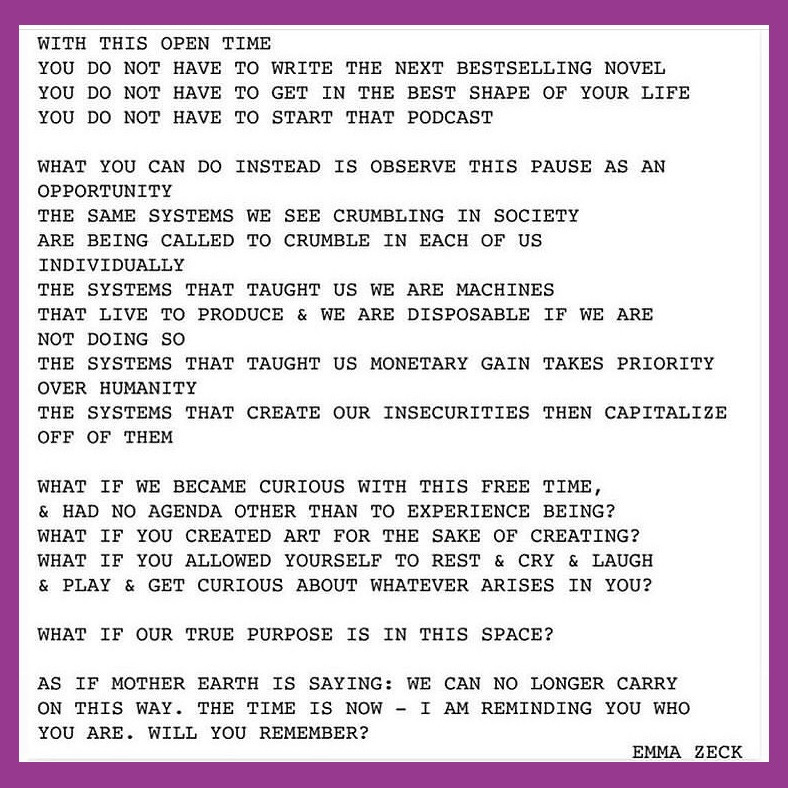 I will leave you with my favorite line from that piece: "What if we became curious with this free time, and had no agenda other than to experience being?" As my dad loves to say, we are human beings—not human doings. Here's to remembering that in these trying times ahead.
Much love and healthy wishes,
Annie