Norway Vibes + How to Beat Jet Lag
Mountains and rivers and fjords, oh my!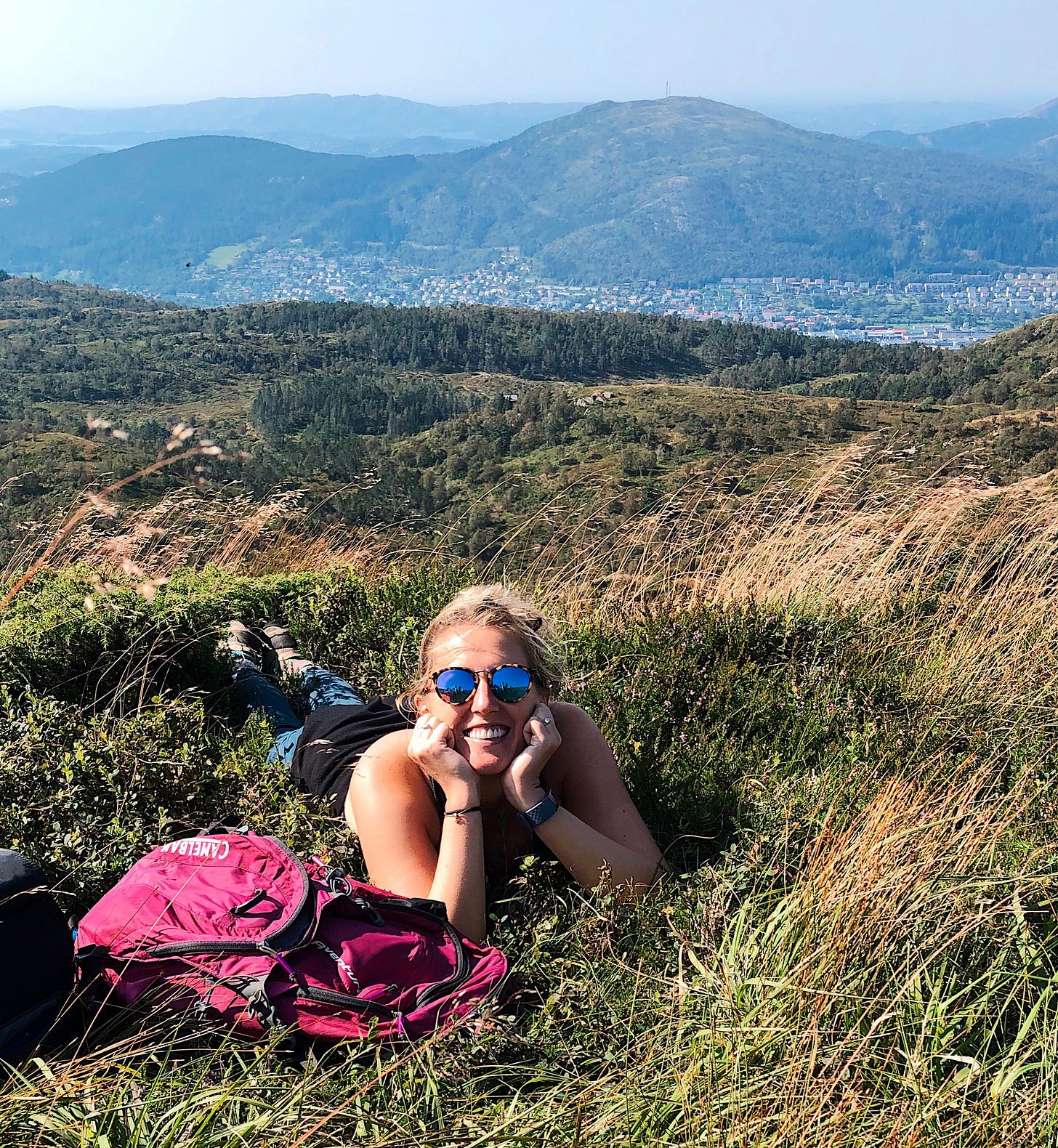 Hey everyone! 
I'm back from my first research trip for my upcoming travel and wellness book, Destination Wellness (out from Chronicle Prism in 2021). As you may remember, I kicked off my travels with a 13-day adventure in Norway, and now that I'm back, I'm excited to check in with you all.
Norway blew my mind — it was filled with majestic mountains and beautiful islands and fresh creeks and fjords for miles. I hadn't ever seen a fjord before, let alone multiples, and they were stunning, the kind of landscape that makes you want to narrate the experience in your own head as it's happening just to remind yourself that it's real. One day, on a five-hour ferry ride through the fjords, I even took my mental narration to the next level with music. I sat out there on the deck of the boat with my headphones and a (far-too-expensive) glass of mediocre red wine I'd procured from the ferry bar, and threw on a bunch of atmospheric, highly-emotional bands, like Radiohead and The xx. Their moody, brooding tunes totally matched the surrounding dramatic scenery, and as I took in all of the pure salt air and watched the jagged cliffs float on by, I just about cried from happiness. Nature, man!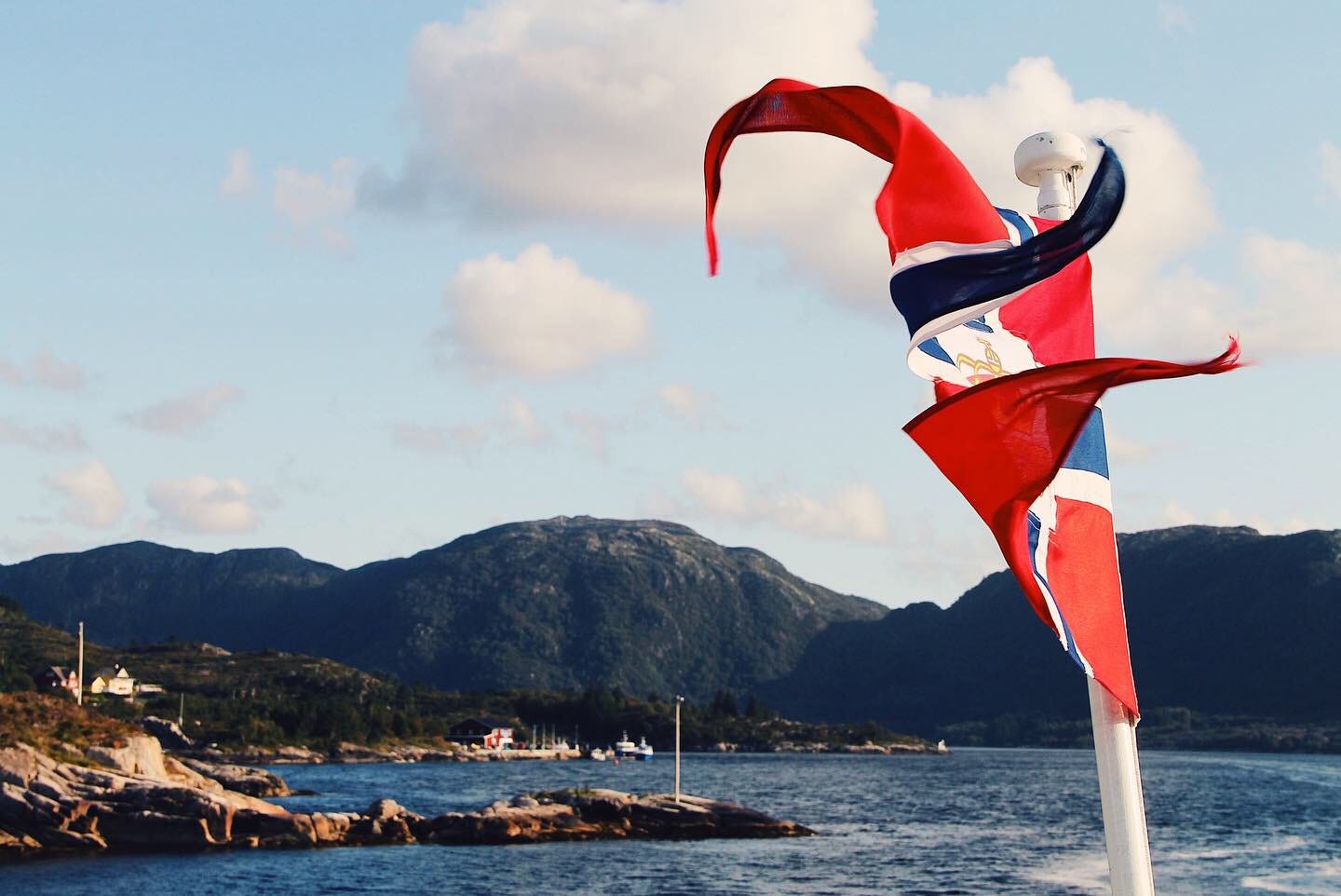 You'll hear all about the deeper wellness lessons I learned in Norway in the book, but in the meantime, here's some more documented evidence of all of that nature epicness. The shot below is from the top of Mount Fløyen in Bergen, where I started my trip. Located on the southwestern coast of Norway, Bergen is nicknamed the "City of Seven Mountains" because there are seven mountains right within the city lines. It's the rainiest city in Europe, too, with rainfall for roughly 270 days of the year, but fortunately for me, I got almost pure sunshine! Thank you, weather gods and goddesses.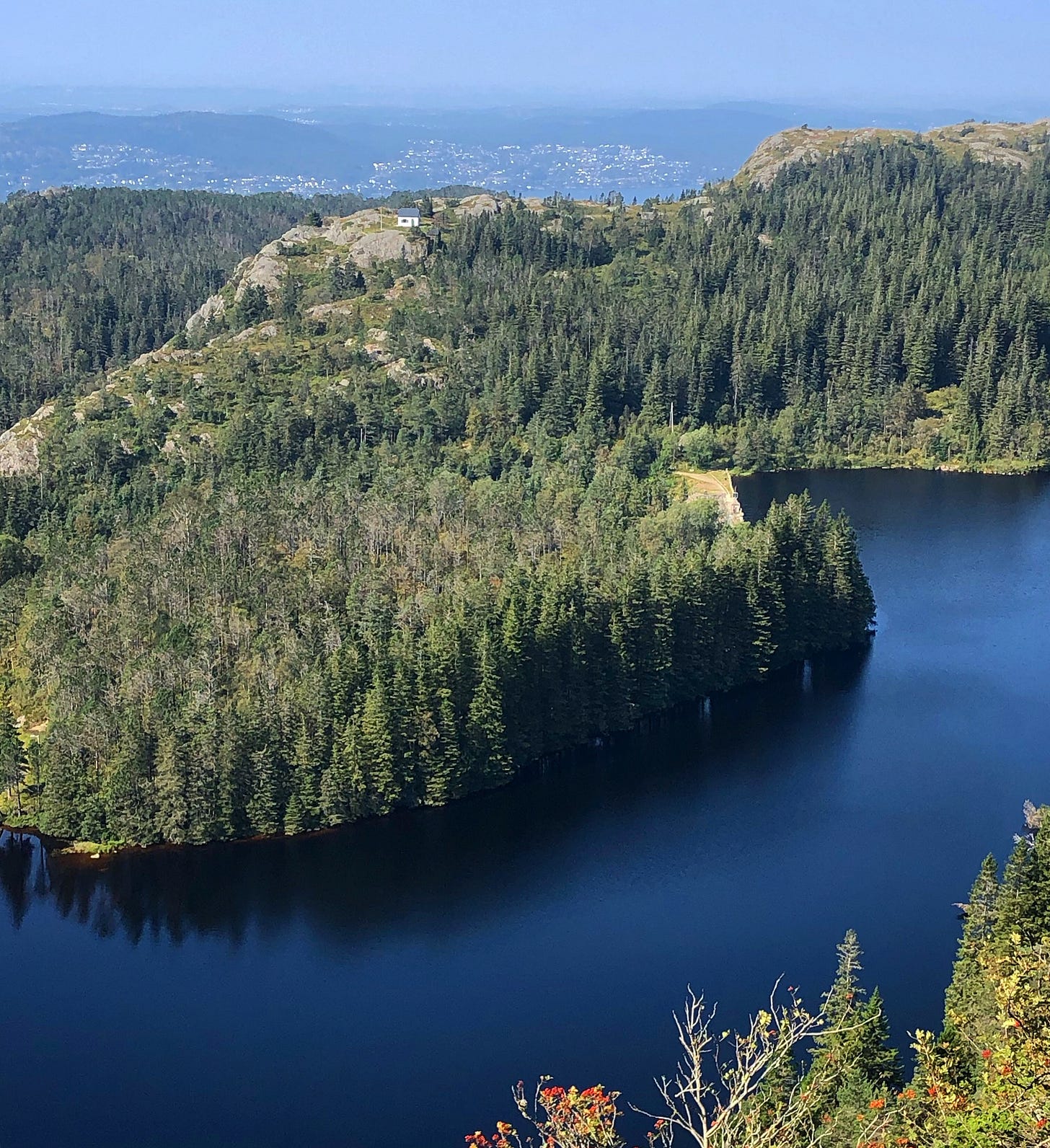 After I spent a couple days in Bergen, I took that aforementioned five-hour ferry up to Sogndal, a village located right on Sognefjord, Norway's longest and deepest fjord. Both the fjord and the hikes surrounding it were equally stunning, with gorgeous reflections like this one: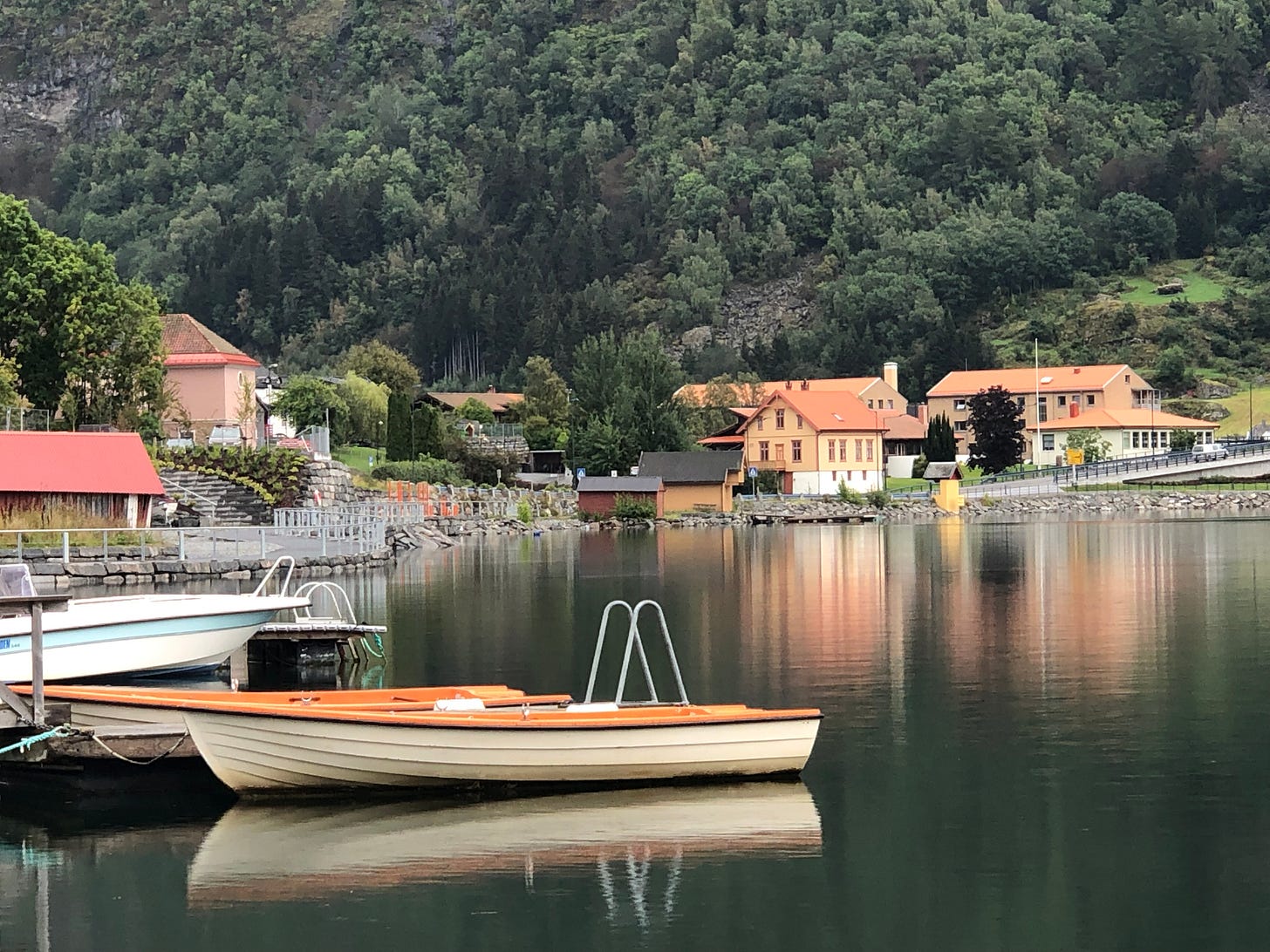 My last stop after Sogndal was Alta, a town in the super super north that's known as a Northern Lights destination. (Spoiler alert: I SAW THEM!) At 69 degrees north, it was the farthest north I'd ever been, and despite all of my merino wool base layers, I was still very cold at night. Even my red wool hat, as seen below, didn't keep me warm enough.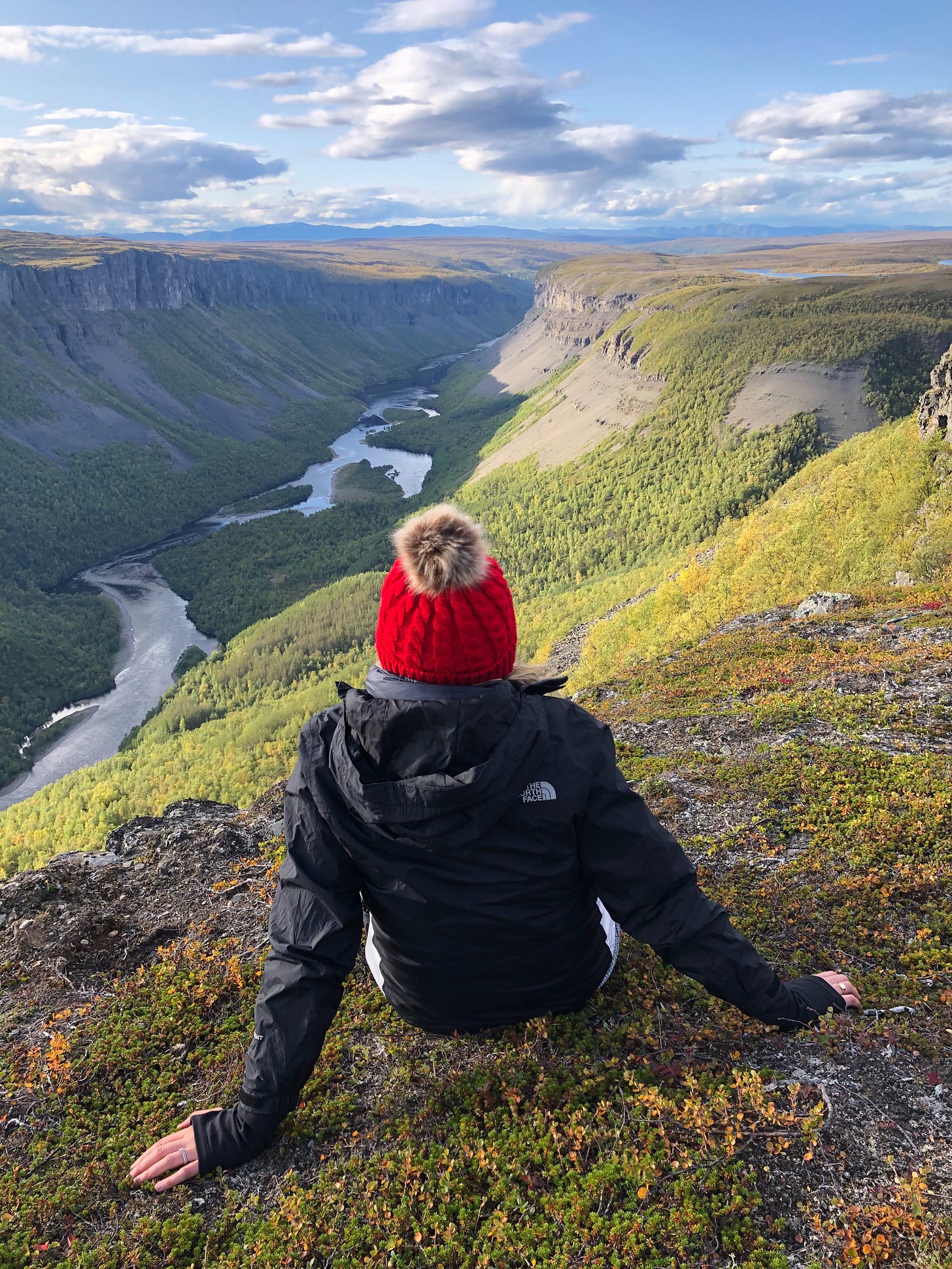 Given all of the views you just saw, it should come as no surprise to you that I'm currently suffering from a severe nature hangover. But unfortunately, even though I travel a lot and should be better at dealing with time differences by now, I'm also battling jet lag, too. Norway is a six-hour time difference from NYC, and while I've been to places like Australia and India with far bigger time differences (14 hours and about nine hours, respectively), six hours is a sneaky one because it's juuuust short enough that it doesn't knock me out entirely. I can easily convince myself that I'm fine ... when I'm not. Over the years, I've written countless articles like this one about how to beat jet lag and come down from the travel high once you're home, so I'm not totally in the dark — but I'm always on the hunt for more advice. Have any to pass along?! Please let me know if so ... I'll take anything! 
In fact, I just got back from a trip to Trader Joe's, and I've even managed to convince myself that my TJ's haul may have helped curb my jet lag a little bit. For one thing, getting back into a daily routine filled with grocery shopping and laundry doing is always a good way to ease back into life after a trip. But on a headier note, I equate a trip to Trader Joe's with a trip to America, complete with its quintessentially American cauliflower gnocchi and its thirty thousand choices of potato chips and peanut butter. Since most of my travels these days are international — especially now that I'm writing this book — hitting up TJ's first thing upon return is a good reminder that I'm home and that it's time to lift myself out of my blurry jet lagged state and re-enter the American world. Anyone else with me on the TJ's-as-jet-lag-cure theory? 
***
Finally, I thought it'd be cool to end each of my newsletters with a list of some fun things I've consumed recently, from articles to food to cocktails to podcasts to books to songs and more. This list will get especially diverse as I make my way around the globe in the coming months, I imagine. 
So here is my first Fun Consumption (FUNSUMPTION!) Report: 
Norwegians love to eat things out of tubes, I learned, and my favorite was this tubed jalapeño cheese:

It was the perfect hiking snack, because it's easily portable, and surprisingly delicious. All you have to do is bring a small loaf of bread, and you've got yourself a meal. Tubed caviar is also extremely popular in Norway, by the way, but it was a bit too fishy for me. Team Cheese Tube for the win.

I've found myself singing the praises of Hasan Minhaj again and again over the past couple months, so why not do it here, too? Guys: He is AMAZING and his Netflix comedy talk show, Patriot Act, is an absolute must watch. When I was in Norway, I went hiking with a friend group of locals my age, and they were all asking me about what it's really like in the U.S. right now (an especially fun conversation for Americans these days, given our president). While I answered their questions as best as I could, I also told them that they have to start watching Hasan's show, because he breaks down the ironies and social injustices and nuances of American society better than most people out there right now. We watched his episode "The Real Cost of Cruises" together one night, and they were hooked! I'd say that Hasan Minhaj should truly be the voice of our generation. 

I am fully obsessed with this newish series from The Cut called "Doing the Most." It's about how we define and harness ambition in society today. As a self-defined "low-key go-getter" who is predominantly eager, but can also envision plopping it on the beach somewhere and calling it a day, I will read anything written about this topic. I am perpetually curious about how to deal with my waxing-and-waning ambition, especially after traveling all over the world and seeing how Americans place so much more value on work than many other places around the globe. Start with the profile of Kara Swisher, and you'll be on the "Doing the Most" bandwagon, too. 

I saw the Northern Lights when I was in Norway (!!!), so now I'm on a major Northern Lights theme songs kick. I currently have Neil Young's Pocahontas and Phish's Farmhouse on repeat, because both songs mention the Northern Lights and I'm listening to them to relive the moment over and over. When I told my dad that I saw the Northern Lights, he replied, "I'm super extra excited for you! Big, impossible-to-forget moments are rare." I couldn't agree more. 
Next stop: Hawaii! I'll be checking in with you as I go island hopping from Maui to the island of Hawaii to Kauai to Oahu, with stops to interview cultural experts, report on what's going on at Mauna Kea (it's so much more than the telescope), climb spiritual mountains at sunrise, eat an absurd amount of poke bowls, and soak in all of the aloha vibes. 
Until then,
Annie